Like to Fish? We'll get along just fine.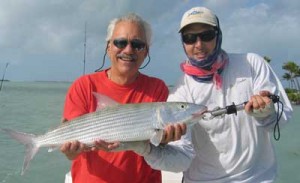 You've found my site, my guess is you like to fish.
I like you already.
My name is Captain Perry Scuderi and I've fished the backcountry and flats of the Florida Keys since 1977. For the last 12 years, I've been a professional guide — it's my job to catch you the fish of the lifetime.
I started coming to the Keys with my family and friends when I was six — back in 1977.
I was hooked. Every opportunity – weekends, holidays, summers — I came to the Keys. If you've been here, you understand. If you haven't, well, you'd do yourself right to spend a few days in what a lot of people call paradise…and if the fish cooperate, you're friends will beg you to stop talking about your trip.
Thanks for looking around the site – I hope to see you in the Keys soon.
From the Mouths of Babes…
That you even have a web page to read right now is truly thanks to a few younger anglers I've fished over the years — and my wife who told me to listen to them.
I have a 10,000-question per trip limit…would you believe some kids reach it before we even leave the dock?
Frequent and pressing questions include
"How deep is the water?"
"Will we see a big shark?"
"Have you ever fallen in?"
The most pressing question, without a doubt –
"Captain Perry, when are you going to get a web site?"
Well kids, here it is…